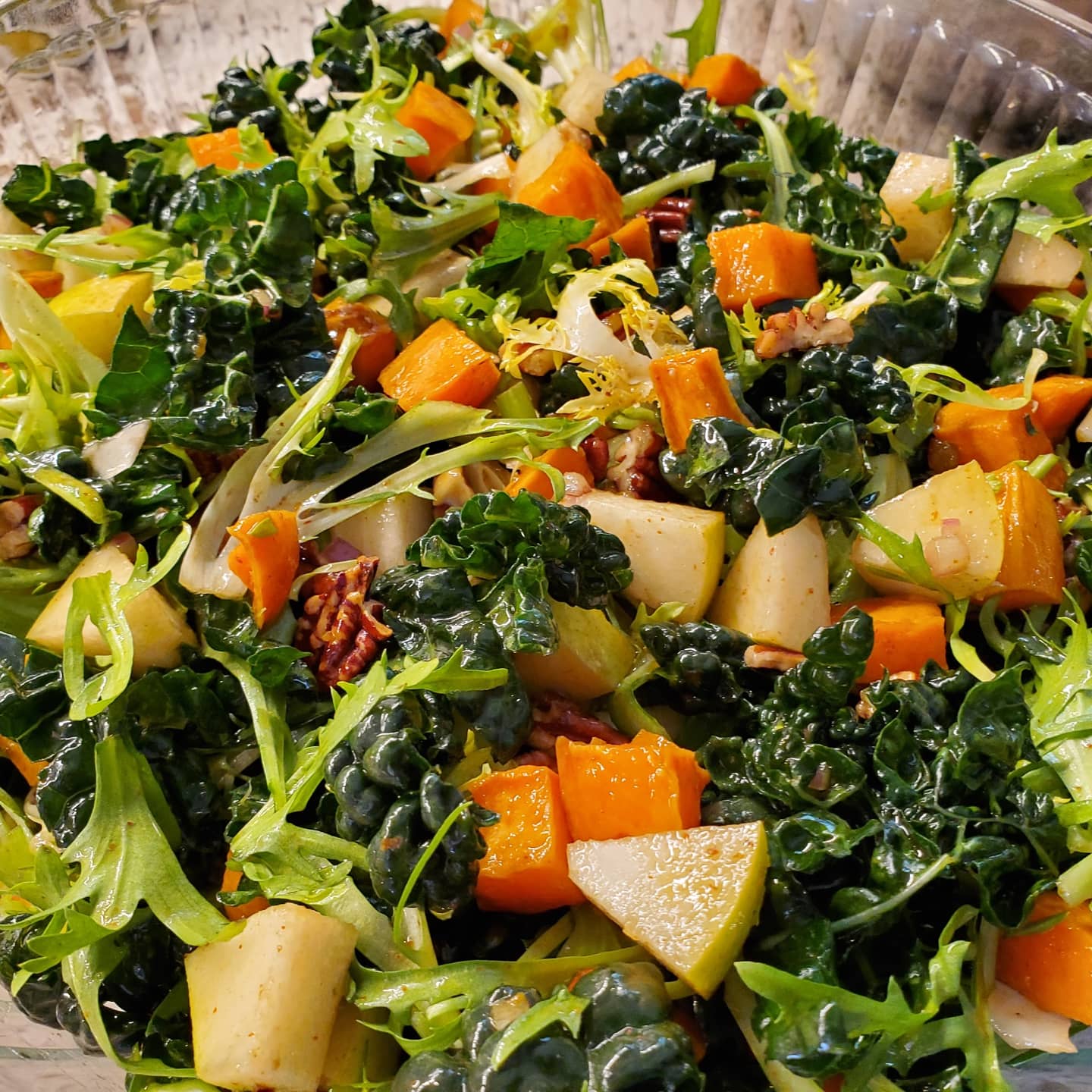 Eat the Colors of the Rainbow Every Day
Have you heard that you should eat the colors of the rainbow every day? The rich deep colors in vegetables and fruits come with protective phytonutrients that have different protective effects, including being antioxidant, cancer-fighting, anti-inflammatory, antibacterial, antifungal, and antiviral. The deeper the color, the stronger the effects. By eating a wide variety of red, orange, yellow, white, green, blue and purple vegetables and fruits each day, you are getting the full array of protective benefits of these plant compounds.
This year-round salad is full of beautiful colors. It's so pretty and delicious, you may forget how good it is for you! You can add a protein to make it a delicious meal salad too.
Ridiculously Delicious Kale Salad
Salad Ingredients
1 bunch organic lacinato kale, chopped
1 bunch frisee (or other interesting salad veggie like radicchio, endive or watercress), chopped
1/4 red onion, minced
2 organic pears (apple works well too), cubed
1 cup raw or toasted pecans
2 small sweet potatoes, cubed
Dressing Ingredients
1/2 cup extra virgin olive oil
3 Tbsp balsamic vinegar
1 tsp Dijon mustard
1 tsp real maple syrup
1/2 tsp paprika
1/2 tsp tamari sauce (gluten free soy sauce)
dash of salt
Directions
Lightly coat the sweet potato in olive oil, then roast at 350 degrees for about 25 minutes. Cool.
Assemble all the salad ingredients in a large bowl.
Whisk all the salad dressing ingredients together.
Add dressing to the salad and toss to coat.