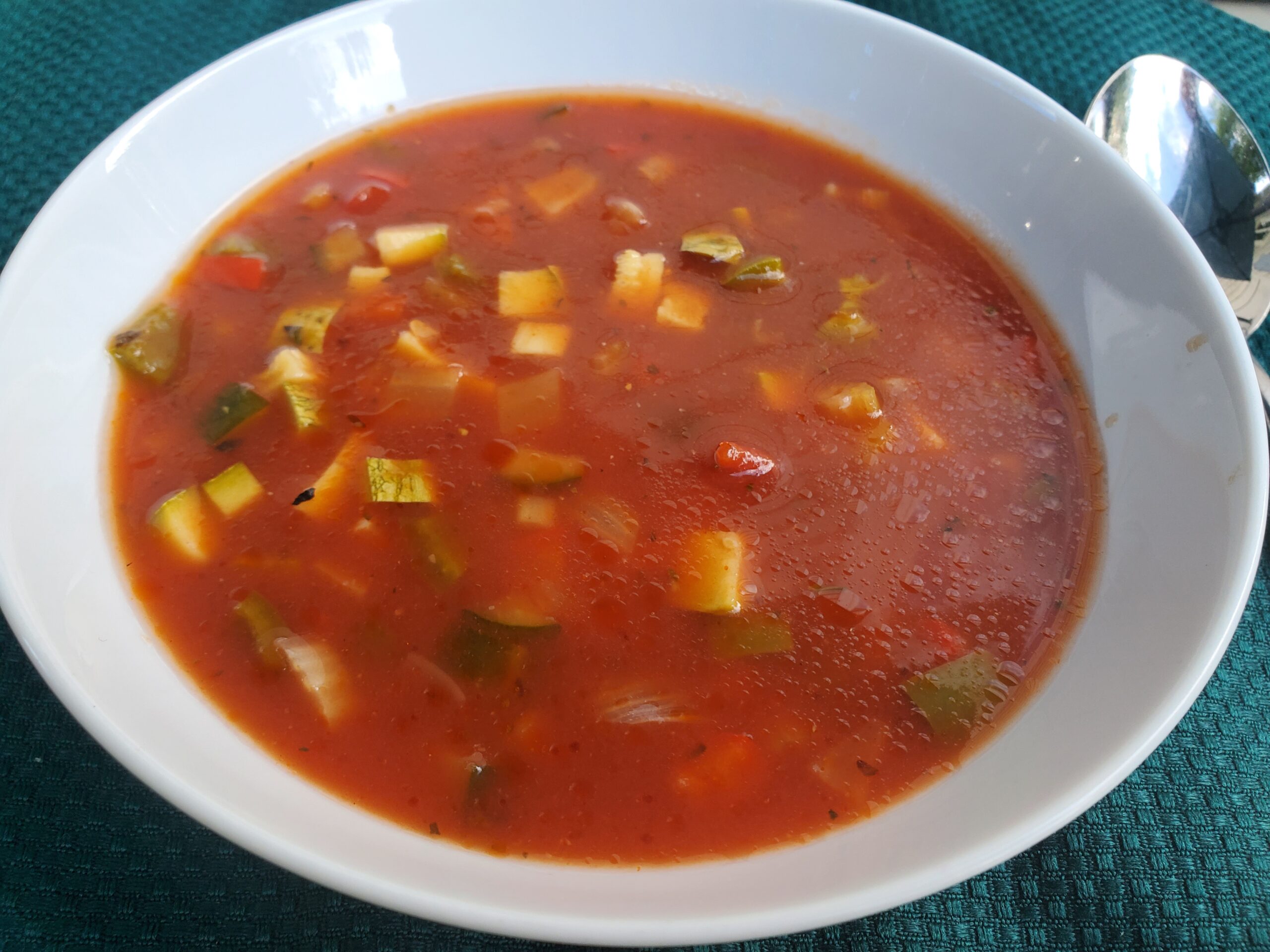 Bill's Chunky Gazpacho
My good friend Carol treated me to a bowl (2 bowls actually) of this delicious chunky gazpacho recently. The recipe came from her friend Bill, a neighbor of hers in the 1980's. Bill has passed on, but his recipe continues to be shared with love. 
Topped with a dollop of sour cream and served with a crusty buttered roll, this was the perfect lunch between friends. And oh so healthy!
Ingredients
1 1/2 cups tomato juice
1 tomato, chopped
1 beef bouillon cube
1/2 cup cucumber, unpeeled and chopped
1/2 cup celery, diced
1/2 cup zucchini, diced
1/4 cup green pepper, chopped
1/4 cup onion, chopped
2 tbsp wine vinegar
1 tbsp extra virgin olive oil
1/2 tsp Worcestershire sauce
1/2 tsp salt
1/2 tsp Italian seasoning blend
3 drops red pepper sauce, or more to taste
Fresh-ground pepper to taste
Directions
Heat tomato juice to boiling. Add bouillon cube or broth. Stir until dissolved.
Turn off the heat. Add remaining ingredients. Add salt and pepper if desired.
Cool, then chill for several hours or overnight before serving.
Serve cold or at room temperature.
Notes
 I like to increase the amount of vegetables for a heartier soup.
 Note that some bouillon brands contain gluten.
 8 oz beef broth can be substituted for the bouillon. Add extra salt if needed.
 Adding a dollop of sour cream or some cubed avocado adds a nice creamy touch.