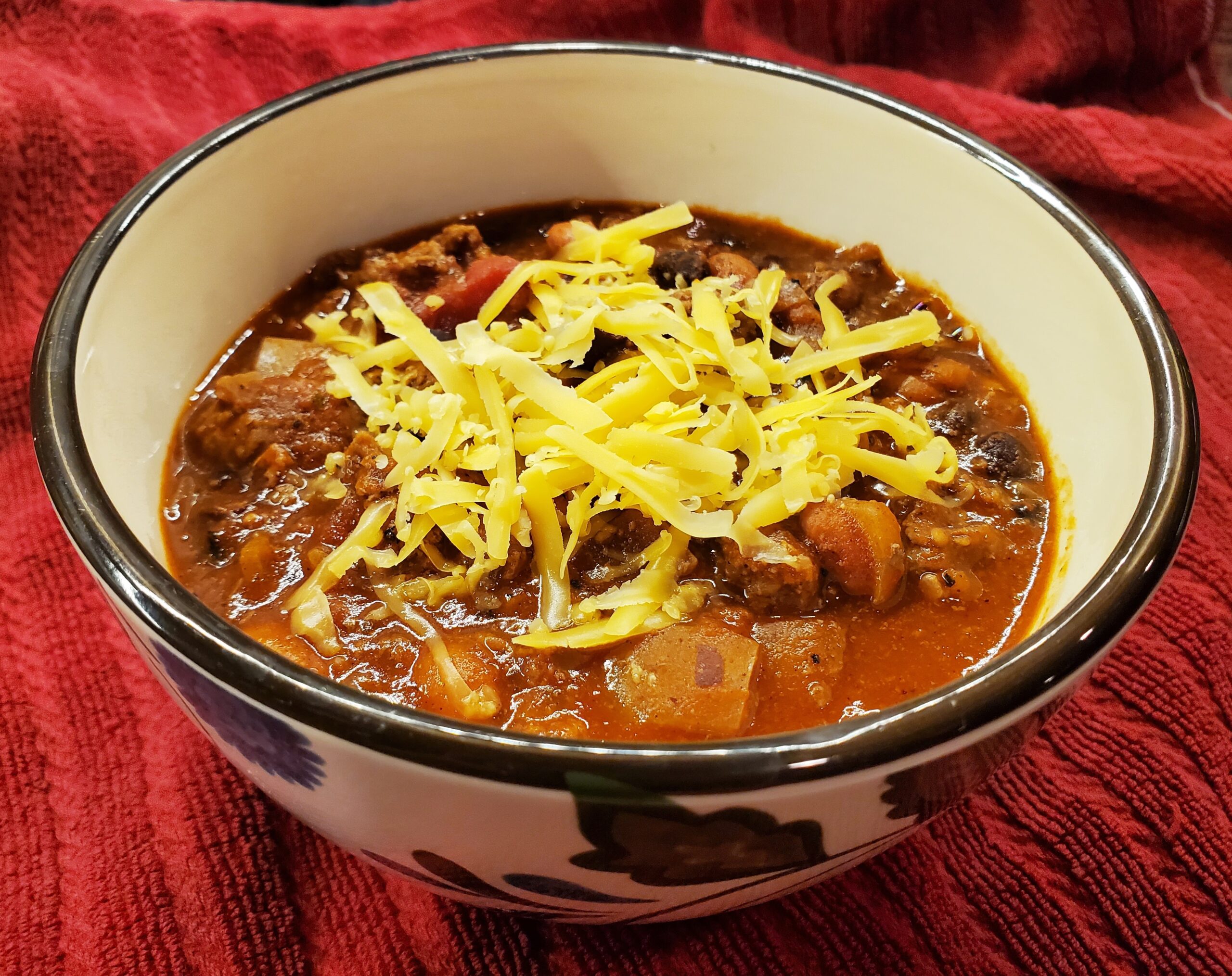 Friday Night Chili Recipe
People are fiercely loyal to their favorite chili recipe. In fact, there are competitions for the best chili recipe! Some are meaty, some are vegetarian, some are spicy hot, some have peppers and some don't. 
This Friday Night Chili recipe has been a family favorite for 25 years. It's a tradition for Halloween, the Super Bowl and many a cold snowy day! My father-in-law requested it regularly. Other family members have made it a tradition at their houses too. It's versatile, so you can make it exactly how you like it. You can switch up the meats it in, make it more or less spicy, add peppers to it and mix up the condiments.
Serving it with a side salad makes it a perfect balanced meal.
Thanks to Southern Living, who first published this recipe in 1996.
Ingredients
2 pounds ground meat – grassfed beef, pork, turkey, elk, venison
2 large onions, chopped
3 large cloves garlic, minced
2 (16-oz) cans kidney beans, undrained
1 (16-oz) can whole tomatoes, undrained and chopped
1 (8-oz) can tomato sauce
2 cups water
1 1/2 to 2 Tbsp chili powder
2 tsp garlic salt
1 1/2 tsp ground cumin
1 tsp dried oregano
1 tsp black pepper
1/2 tsp ground red pepper (cayenne), or to taste
1/4 tsp hot sauce, optional
Condiments: corn chips, shredded cheddar cheese, sliced green onions
Directions
Cook the first 3 ingredients in a Dutch oven over medium-high heat until meat is browned and onion is tender, stirring until meat crumbles.
Stir in beans and next 10 ingredients. Bring to a boil, then reduce heat and simmer, uncovered, for 1 hour, stirring occasionally.
Serve chili with desired condiments.
Notes
You can mix and match different ground meats. Be sure to buy the healthiest choices you can find – grassfed, pastured and organic.
You can use different beans, such as black beans and pinto beans.
You can add a chopped bell pepper if you like that flavor.
You control the spiciness with more or less cayenne pepper and hot sauce.
Other condiments can be added, such as sour cream and avocado chunks.
This chili is filling. Serving it with a side salad keeps it lighter and adds nutrients and fiber.
Corn bread is a great addition.